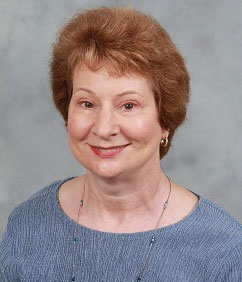 Anderson, Jeanne M, MD
White Bear Lake - Bellaire Ave.
I feel that caring for patients involves working with each person to achieve good health, to prevent the development of health problems as much as possible and to treat acute and chronic illnesses to the best of my ability.
I enjoy working with patients of all ages and I am capable of dealing with a wide variety of problems.  I want my patients to feel comfortable talking to me about anything that affects their health status.  Caring for the whole person is what family medicine is all about.
About Anderson, Jeanne M, MD
Range of Practice Family Physicians have a broad range of training and experience. I care for patients of all ages including infants, children, adolescents, adults (including prenatal care and delivery) and the elderly. I also have extensive experience in obstetrical care and in gynecology, including colposcopy (evaluation and treatment of abnormal Pap smears.) My practice emphasizes health promotion, disease prevention, health maintenance, counseling, patient education, diagnosis and the treatment of acute and chronic illnesses in a variety of health care settings. I apply modern techniques to prevention, diagnosis and treatment of the vast majority of common illnesses and injuries.I feel that doctor-patient communication is important and encourage the role of the patient as a partner in health care. I get to know you and become familiar with your medical history, help coordinate your health care needs by serving as a patient advocate in all health related matters, including the appropriate use of consultants, health services and community resources. In my practice I strive for continuity of care for you and your family.
Medical School Creighton University 1996
Residency Regions Hospital, St. Paul, Minnesota
Board Certifications / Re-certifications
Professional Societies/Memberships American Academy of Family PhysiciansAmerican Board of Family PracticeAmerican Medical Women's AssociationMinnesota Academy of Family Physicians, East Metro ChapterMinnesota Medical Women's AssociationTwin Cities Medical Society
Achievements Chair of Entira Family Clinics Preventive Services Clinical Practice CommitteePast Associate Medical Director for MinnHealth White BearClinical Associate Professor - University of Minnesota Family PracticeChairperson - Institute for Clinical Systems Integration Cervical Cancer Screening CommitteeAmerican Board of Family Practice Diplomate
Articles
Special Interests Monthly interviews on KSTP-TV News at 6:30. Look for me on Tuesdays!
Personal Interests Bicycling - Sailing - Singing with Sweet Adelines
Other
Graduate School
Location 3220 Bellaire Avenue, White Bear Lake, MN 55110
Appointments Phone 651-788-4444