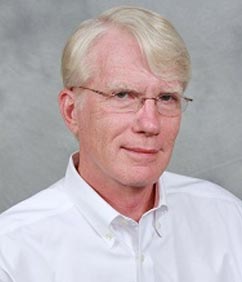 Steinhauser, Mark A, MD
Maplewood/Battle Creek
My interests in teaching, science and working with people led me into a career in medicine.  I appreciate the wide variety of patients and medical conditions I can treat as a family medicine doctor.  I see my role as guiding patients towards the best health practices, but also being tolerant when they fall short.
Entira Family Clinics Update:
Mark Steinhauser, MD will retire; his last day will be Friday, September 21, 2018. 
About Steinhauser, Mark A, MD
Range of Practice My specialty is Family Practice - which means I spent 3 years following medical school learning the skills necessary to take care of a wide range of patients - including taking care of babies (although I no longer deliver them), children, adolescents and adults of all ages. I enjoy all aspects of my practice - well person exams with discussion about health maintenance, disease prevention, exercise, diet and other health promotion advice, treating most common acute illnesses and injuries, monitoring and treating chronic illnesses (such as diabetes, high blood pressure, high cholesterol, asthma and heart disease), acting as an adviser and advocate when interaction with other parts of the health care system are required (hospitals, consultants, specialists, community agencies). I try to be available in the office for appointments (usually same day as needed) and available by phone. I do have some early morning, lunch hour and evening appointments during the week to facilitate availability. I practice with equally well trained and capable providers both at my clinic location and in our group as a whole.
Medical School University of Minnesota Medical School, Minneapolis, Minnesota
Residency St. Paul Ramsey Medical Center
Board Certifications / Re-certifications American Board of Family Medicine
Professional Societies/Memberships American Academy of Family Physicians, American Medical Association, Minnesota Academy of Family Physicians, Minnesota Medical Association, East Metro Medical Society
Achievements Member of CardioPulmonary Committee, Former member of Respiratory Services Clinical Practice Committee, Former President of MinnHealth Family Physicians, P.A.
Articles
Special Interests
Personal Interests Reading Music Running, Spending time with my wife and two children
Other
Graduate School
Location 2716 Upper Afton Rd, St Paul, MN 55119, USA
Appointments Phone 651-739-5050