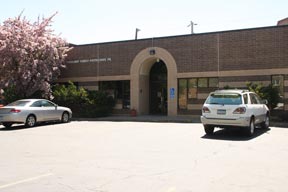 RESPIRATORY CARE CLINIC AT HIGHLAND
In order to best take care for all our patients in a safe environment, we have designed our Highland Clinic as a Respiratory Care Clinic. Starting April 6, 2020, our Highland Clinic location will focus on taking care of patients who need to be seen for fevers, coughs, shortness of breath and sore throats, as well as additional symptoms. Please see link here Our patient's safety is our #1 goal and we feel this is in the best interest of our patients and staff to keep everyone as safe as possible. Only those patients will be seen who have a scheduled appointment and who have a referral from Triage. To schedule an appointment at the Respiratory Care Clinic, call 651-788-4444.
PATIENT UPDATE:
The MN Department of Health (MDH) has recommended all patients be universally masked. For the safety of yourself and our staff, we advise wearing your own mask (or other cloth face coverings such as a bandana or scarf) when you come to the clinic for any upcoming appointments.  The CDC recommends wearing cloth face coverings in public settings where other social distancing measures are difficult to maintain (e.g., grocery stores and pharmacies), especially in areas of significant community-based transmission. Thank you. 
Address
1540 Randolph Avenue
St. Paul,  MN 55105
Appointments
651-788-4444
Fax
651-699-9257
Hours starting on April 6, 2020:
Monday – Friday:
9 am – 3 pm (hours may vary)
Previously scheduled appointments at Highland should not go to this clinic location. If you had a previously scheduled appointment are not clear as to what clinic you should now go to, please call Scheduling at 651-788-4444 and they will direct you to where you will be seen for any upcoming appointments.
Our Providers
Our providers will be shifting to nearby locations that best meet the needs of each clinic. 
Because of changes due to COVID-19, some of our providers are seeing patients at other clinics on a temporary basis. Thank you for your patience and understanding. Please note these changes below:
Please note:
If you are a Highland patient, our Highland providers are temporarily located at the following clinics:
Dr. Ryan Dick is now at the Inver Grove Heights clinic
Nicole Kwapick, PA-C is at the Vadnais Heights clinic
Sarah Olson, PA-C is now at the West St. Paul clinic
Dr. Aaron Ulland is now at the Como/Roseville clinic
---
Where Generations Thrive®:  We are here to serve you and your entire family at all stages of life with individualized care for every member of your family. Entira Family Clinics are conveniently located in many neighborhoods throughout the East Metro. We are proud of our strong history in the community–and have been serving the East Metro communities for over 50 years. At our Highland Clinic, we believe in a close-knit, lasting doctor-patient relationships and familiar care. Our Highland Clinic has been around YOUR neighborhood for over 35 years. As specialists in family medicine, our providers and staff care about our patients and have special relationships with them. We pride ourselves in providing excellent medical care and improving our patients' well-being.  In addition, Entira Family Clinics is physician owned and operated.